Rebecca Gitter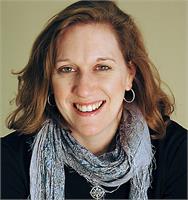 Rebecca Gitter, E-RYT, RCYT, serves as a ChildLight Yoga Teacher Trainer and Yoga 4 Classrooms Instructor. She co-wrote both the ChildLight Yoga Baby & Toddler Yoga Instructor Manual and the ChildLight Yoga in Schools Manual serving as a lead trainer for both modules. She is the lead trainer for the Teen Training, and facilitator for the Basic training. Rebecca completed her adult yoga training in 2006 at the Yoga Center, Columbia, MD. She is certified to teach Itsy Bitsy Yoga for Baby, Tots, Tykes and Little Families classes continuing her studies with Radiant Child, Budding Yogis, Yoga for the Special Child, YoKid, therapeutic yoga and specialized training in pre and postnatal yoga. Rebecca brings a sense of humor to her classes and focuses on meeting her students - of any age- exactly where they are. Sharing yoga with kids (babies-teens) and caregivers in the DC metro area in studios, schools and community centers, as well as with her own two teens, always leaves her smiling and inspires her personal practice. Rebecca holds a BA from Syracuse University in Policy Studies, and a JD from the Catholic University of America. When she isn't teaching you might find her on a trail – hiking, biking or being walked by her dog.
Rebecca Gitter instructs the following:
Time: Fri 5-9pm, Sat 9-6pm, Sun 9-4pm

Location: ChildLight Yoga Studio, 53 Washington Street, Suite LL100, Dover, NH
Tuition: $425

Upload of purchase order is required at the time of registration. The billing contact will be emailed an invoice upon approval of the PO within three business days. For all ChildLight Yoga Teacher Training PO registrations, please add a $25 processing fee for 1-2 individuals or $50 processing fee for 3 or more.