Radiant Child Yoga Levels 1-2
Foundations in teaching kids yoga
---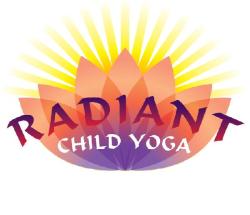 Are you interested in teaching yoga to children, or simply sharing your love of yoga with the children in your life? Register for Radiant Child Yoga teacher training and certificate program with Checka Antifonario (www.checkayoga.com)! Founded in 1999 by Shakta Kaur Khalsa, who was one of the original pioneers to bring yoga for children to the United States, the Radiant Child Yoga Program (www.childrensyoga.com) includes a rich of assortment of tools that will help you to teach yoga to children.

Radiant Child Yoga Levels 1-2 is open to all, regardless of previous yoga training experience - parents, teachers, counselors, therapists, childcare providers, yoga enthusiasts, all supporters of children's well-being - everyone will have fun and leave with wonderful, practical, and highly relevant information.

During the Levels 1-2 weekend, you will experience and practice clear instruction of age-appropriate yoga poses, breathing exercises, and meditations for toddlers to teens. Additionally we will cover teaching strategies, yoga songs and games, partner and group yoga for kids, and curriculum ideas. You will also learn about how to share yoga with differently able'd children through being mindful of sensory integration and attention differences in your teaching.

For Yoga Alliance RYT's (Registered Yoga Teachers): Training hours will count as either Yoga Alliance continuing education hours, or hours towards a 95 hour Registered Children's Yoga Teacher add-on. For those who are not RYT's, these hours will count towards a 200 hour Yoga Alliance certification with Radiant Child Family Yoga should you choose to pursue that. However, no prior or further study is required in order to participate in these trainings!

In the words of a recent trainee ~ "It was an incredible weekend and so much fun. It reminded me why I love yoga so much and also why I really want to work with kids - the joy and ease with which you taught us, your presence and humor, it was all so beautiful to experience. I needed this bolt of fun and inspiration for my teaching, as well as my own practice." ~ Alison, Cambridge, MA.



About Checka Antifonario:


Checka Antifonario (E-RYT, RCYT) has taught thousands of children and adolescents in schools, studios, private homes, and adolescent revocation and rehabilitation centers over the past seven years. She has also recently enjoyed presenting at the first annual National Kids' Yoga Conference, guest teaching on the children's yoga and music television program "Yogapalooza", and teaching in the "Yoga Garden" at the White House Easter Egg Roll. Checka strives to awaken and nurture mind-body awareness in all of her young students, and empower them with tools to manage stress and tension in their lives off the mat - all while having plenty of fun!

Checka is honored to be one of 20 teacher trainers worldwide for Radiant Child Yoga, founded in 1999 as one of the country's first children's yoga programs. It is a privilege and great joy for her to help aspiring children's yoga instructors to build their skill sets, find their voices as teachers, and move forward into work that they love. Checka lives outside of Boston, MA and offers Radiant Child Yoga teacher trainings throughout the U.S. She leads with warmth, clarity and energetic flow, deeply invested in the empowerment and success of her trainees. She is fueled by the knowledge that guiding a child to a calm mind, a happy heart, and a healthy body through the practice of yoga is an incredible gift – for both teacher and student!

Equally passionate about her adult yoga offerings, Checka leads classes, workshops and retreats for grown-up yogis as well! More info available at www.checkayoga.com.