Yogapalooza Concert with Bari Koral
Award winning kids/family recording artist and Yogapalooza Television host Bari Koral
---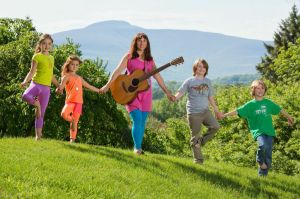 A trip to the moon! Growing from seeds into apple trees! Yoga with a dancing bear? Award winning kids/family recording artist and long time yogi Bari Koral will show you a wonderful world of beloved songs and activities for kids.

Experience first hand the joy of bringing yoga and music together. Discover a wonderful world of proven, beloved songs and activities that teach children the love of yoga & movement.

Guaranteed to have you singing and moving!

Yogapalooza will feature the best activities and music from Bari's longtime popular classes and her television show Yogapalooza which features music, movement, healthy living tips, relaxation and other skills for children.

People Magazine named Bari Koral's 2012 release, Anna and the Cupcakes, one of that year's coolest albums for kids. Bari's songs are in regular rotation on Sirius/XM Radio's Kids Place Live, and her recordings have been honored with two Parents' Choice Awards and two NAPPA Awards. New York Family Magazine praised "Bari Koral's soulful music and smart pop hooks." Enthused Jeff Bogle of Out With The Kids, "What would Norah Jones sound like if she decided to up the tempo a bit and make music geared towards young people? My guess is that she would probably emulate the music The Bari Koral Family Rock Band is making right now."


What people are saying:

"Bari's music is engaging, creative and packed with love. Even the most timid of children find they can't resist moving when they hear her songs, and it's rare I don't hear "can we do that again."
– Marjory Trott- Dance(ing), Movement and Yoga Nantucket

"Bari's music has been such a blessing for my kids yoga classes. Kids like music but kids LOVE Bari's music!"
–Checka Antifonario. Radiant Child Yoga

"I love sharing Bari Koral's songs in my kids yoga classes because they are fun, playful and inspirational to all ages and the children love it so much!"
-Shari Vilchez-Blatt. Founder and Director Karma Kids Yoga

"Our new favorite children's artist."
-The Children's School of Yoga

"Bari's songs incorporated with the yoga poses are SUCH a wonderful addition to classes! And I have to tell you the kids LOVE doing it! Brilliant!!"
-Shannon Hoyt, Hunter Elementary School

To learn more about Bari Koral visit her website!

About Bari:


Dubbed the "IT" Girl of Kids Music by New York Magazine, and the "Sheryl Crow for Kids" by the New York Post, Bari Koral has been a yogi and recording artist for over 20 years. She has written and recorded over 40 children's songs that have become part of educational curriculums world-wide and to date has trained over 1,000 preschool and kindergarten teachers to teach kids yoga based on her songs. Bari is the featured keynote for the inaugural Yo Kids Yoga Conference. Her songs are especially popular for music, movement and kids yoga including her #1 kids yoga song "the Sun Dance". She has won numerous awards including Parents Choice and Nappa Gold Awards.

Her "Adult" yoga program De-Stress at your Desk has been taught at dozens of Fortune 500 companies including Jet Blue, ABC, the BBC & Oxford Health.

For many years she has lectured on the benefits of yoga, meditation and tools for stress reduction. She now dedicates her life to inspiring young children to lead happy, healthy lives.