ChildLight Yoga & Mindfulness in Schools Teacher Training
---
Do you find yourself asking, "As a children's yoga teacher, how do I bring ChildLight Yoga into the schools?" This training has the answers! Let the creators of ChildLight Yoga and Yoga 4 Classrooms teach you everything we know about bringing yoga and mindfulness education into preschools, elementary, middle and high schools.

Become empowered to share your gifts in a variety of school contexts including during or after school enrichment programs, PE classes, health fairs, specials, field day, and the classroom setting. You will learn best practices for contacting schools and gaining support for implementation, adapting your teaching and language for the school environment, ensuring inclusivity, modifying for space constraints, managing large groups, lesson planning, business tips and tools, practice teaching and much more.


WHO SHOULD ATTEND
Yoga teachers, yoga students, parent volunteers, allied professionals, social workers and other adults interested in working with children in a school setting. Please note that our affiliate company, Yoga 4 Classrooms, offers extensive information, best practices, tools and resources designed for school-employed professionals inspired to lead yoga and mindfulness implementation at their own schools.

LEARNING OBJECTIVES
1. Communicate the physical, cognitive, social, and emotional benefits of implementation of yoga and mindfulness-based interventions in schools as reflected in the growing evidence base.
2. Integrate best practices for adapting yoga and mindfulness language and teaching for a classroom and school setting.
3. Create lesson plans appropriate for a variety of before, during and after school contexts, grade levels, and time frames.
4. Identify key stakeholders and implement tools and tips for gaining buy-in, support and funding.
5. Crosswalk MY-SEL (yoga, mindfulness and social and emotional learning) with school roles, standards, and current education policy.
6. Utilize a glossary of current school terminology, tools and evidence-based resources to support your work with schools.
CERTIFICATION
Participants must attend the required 15 contact hours. Candidates who attend all required training hours and successfully complete the certification process will be listed as a Certified ChildLight Yoga Instructor on our website.

TUITION
$345, includes 15 contact hours, comprehensive, fully-illustrated instructor manual and (optional) certification administration. Those who complete certification also earn ChildLight Yoga Instructor Circle membership. Click here for Scholarship Opportunities & Group Discounts which are available on a limited basis.
REFRESHER
Have you taken our Yoga & Mindfulness in Schools Teacher Training and need a refresher? Re-take this training for $100. Bring your original manual or request an updated version at an additional cost.
Visit our FAQ page.
Partner With Us!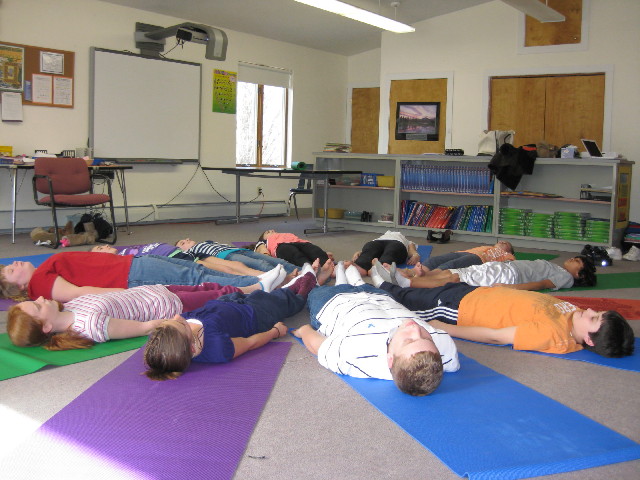 TRAINING FEEDBACK:
"It is honestly difficult to pinpoint the "most useful tips" in this manual because I feel like so much of the information that was provided is extremely relevant and insightful. I think the glossary is extremely helpful in terms of helping a yoga instructor, "do their homework." Even though I work in a school there were still some terms that were new to me and some different approaches than we currently use. I also found the ideas in the class offerings section useful, in terms of offering after school yoga, one-time events and parent workshops. Education on why yoga supports the mission of the school may help with buy-in and long-term success to keep the programs running." ~ JC
"I especially loved how it was made very clear, during the training and in the manual, how to make yoga public school friendly. As yoga teachers, we are used to parts that come with our practice, but we have to be mindful of what is not acceptable in a public school setting. ChildLight Yoga did an EXCELLENT job." ~ GB

"I am teaching yoga in our after school program this year. It's going great! I have been following the manuals and lesson plans and the kids are loving it! Thank you so much!" ~ JH

"Superb in delivery and organization!" ~ LK


"Having a small group was nice. Practice teaching was so fun! It took me out of my comfort zone and it felt great." ~ BT
"I most enjoyed the flow of the training - the give and take of students and trainer." ~ MW
"I have been given the tools, resources and direction I need to teach yoga in schools and our trainer even gave us extra." ~ MD
"My training experience in Dover was, as always, outstanding!" ~ KL

"Wonderful! Insight and suggestions were right on target. I also enjoyed the "modeling." ~ SD